Santa and his Elves spread a little joy!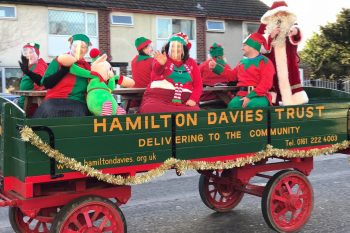 What an unbelievable turn-out we received to our Elf Trailer parade this year. Young and old were safely spread along the length of Liverpool Road, from Hamilton Davies House in Cadishead to the roundabout in Higher Irlam, to give Santa and his Elves a cheery wave.
2020 saw a bigger turn out than ever before, which goes to show just how much people needed a bit of good cheer this year. Teachers and schoolchildren from the primary schools in Irlam & Cadishead as well as the I&C Academy waited patiently in their school bubbles for Santa and his Elves to appear, singing Christmas songs whilst they waited. Their joyful faces, excited waves and even cheeky dances were heartwarming for the HDT team to experience, and are memories they will always cherish. Residents from their homes and gardens, workers in their offices and local shops and businesses all took a moment to look up and give us a wave and share in the joy that this much-loved festive tour of the district brings. Motorists too peeped their horns with delight in seeing such an unexpected Christmas spectacle!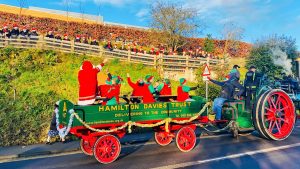 The Elf Trailer is pulled by an old steam engine lovingly known as 'Old Faithful', which attracts a lot of attention in itself as it tootles along the high street. HDT wish to thank the Wykes brothers, Josh and Luke, for taking the time to prepare and steam up the engine, and for safely transporting Santa and his Elves.
For the HDT team and its Chair Neil McArthur, boarding the Elf Trailer and experiencing the joy first-hand is the highlight of their year and they are already looking forward to next year.  With Coronavirus restrictions well behind us all, we hope that in 2021 more of our Elves can get back on board the trailer next Christmas to spread even more cheer.
We wish to thank all who turned out, or looked up, and took part in what was a magical December morning!
To see a video of the event as it happened, visit our Facebook page https://www.facebook.com/hamiltondaviestrust/
Posted on: 16th December 2020