It's beginning to look a lot like Christmas!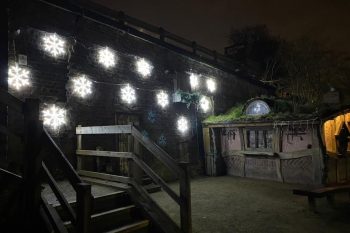 With the year that everyone has had, the Hamilton Davies Trust (HDT) team felt it was even more important that they do their utmost to bring some Christmas sparkle and good cheer to the district this December, despite the added difficulties with practicalities due to Covid-19 restrictions.
With the help of local business NC Developments, HDT have been busy checking, untangling and renewing Christmas tree lights so that these could be lit up throughout the district on 1st December. This year, additional festive lights have been added to Station Park to bring even more joy to those passing by.
Being unable to host a Community Christmas Concert or Coffee Morning this year, due to Convid-19 restrictions, HDT decided to make a short Community Christmas video instead, entitled 'Its beginning to look a lot like Christmas'. The video will be going live on YouTube a week before Christmas and hopefully will make all viewers smile and feel a little bit more festive! We'd like to thank all the members of the local community who were able to contribute to the video.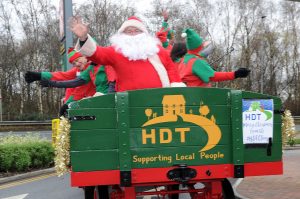 Whatever the weather, the HDT Elf trailer, towed by the much-loved 'Old Faithful' steam engine, will be touring the district once again to raise a smile and brighten people's day. Leaving Hamilton Davies House, Cadishead at 10am on Tuesday 15th December Santa and his Elves will be tootling up Liverpool Road towards the roundabout near Greggs where we will turn around, at approximately 10.40am, to make our way back to HDT.  We appreciate that fewer people may be around to see us due to the pandemic, but we wanted to keep up this popular tradition and felt that more than ever we all need a bit of Christmas magic to brighten our day! Don't worry Santa and his Elves will be well protected, keeping themselves and others safe whilst spreading some cheer!
The HDT team wish everyone a safe and peaceful Christmas, and all the very best for 2021.
Posted on: 8th December 2020