I C Art was on BBC1!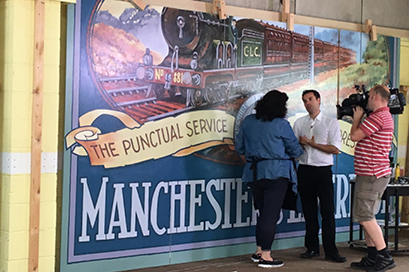 The BBC visited Irlam and Cadishead recently to film the wonderful urban art Rachelle Cleary has produced as part of our I C Art programme.
The filming involved not just the artworks themselves but interviews with Rachelle, Mandy Coleman – our General Manager and local volunteers who have played an important part in producing the artwork.
The programme was aired on 23rd September and we are over the moon that I C Art has finally gained some coverage.
Don't worry if you missed the broadcast, we have a copy here to share. We really hope you enjoy watching it as much as we did.  If you have any comments then let us know on Facebook or Twitter.
We would like to thank the volunteers who have been a vital part of the I C Art programme and we hope you will continue to be involved in rolling out urban art across Irlam and Cadishead.
Click here for further information about I C Art.
Posted on: 26th September 2016